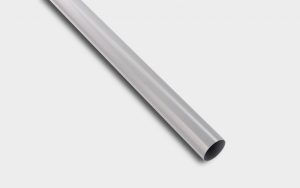 When hygiene is an absolute must – in clean air-related sectors for example – KURO Kunststoffe has developed tubing which uses a silver lining to kill any microbes inside. It's called CLEAN TUBE.
The technology relies on positively charged silver ions which are released when silver oxidises with moisture, shutting down germ growth by 99.9%.
"We manufacture the tube in an extrusion process by using a PVC compound and adding a special kind of microsilver," says Torge Griese, Operations Manager at KURO Kunststoffe. "The silver ions bind to cell proteins and thus interfere with important functions in the cell."
That anti-bacterial quality is integrated into the tube, Griese says. "So CLEAN TUBE is completely safe and provides reliable protection and safety for 20 years."
Speaking of silver, Kuro Kunststoffe won the Silver Sustainability Rating from Ecovadis, meaning they are in the top 25% of companies surveyed by the sustainability ratings agency.
Ecovadis looks at companies' commitment in the areas of ethics, the environment, labour and human rights.