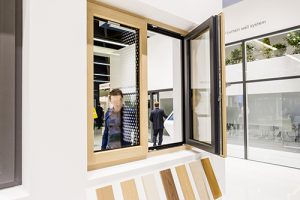 So you've finished renovating your home and the windows don't match your new set of wooden furniture. If it's Inoutic's new system with wood, PVC and aluminium, it's only a matter of switching them out for another kind of wood. It's called Eforte Fusion.
"We wanted to change the image of PVC windows from a 'me-too' product to a desirable product," says Joerg Hofmann, head of product management at Inoutic. ''Desirable because now you have more choice of natural wood profiles.''
There were hurdles to overcome. ''One was getting the proper connection between the PVC profiles and the wood capping to allow enough dilation between both materials," says Hofmann. "The other was that the wood cappings had to be removable in case of glass damage."
What also opens up a lot of new possibilities for architects is that the wood cap is fitted onto the window on the inside, with optional aluminium on the outside. "Even wood caps that are usually unsuited for windows – like maple, ash or beech – can be used," says Hofmann.
As a result, "there are no construction-related limits to freedom of design,"  Hofmann says. "The matching wood type can be selected with the style of the furnishings."
And it makes business sense: wood-aluminium windows have the highest growth rates. "With Eforte Fusion, we can leverage this trend," Hofmann adds.