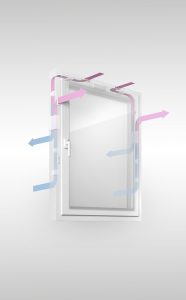 Homeowners and apartment dwellers can face a constant winter dilemma: open the windows to let in the fresh air but lose the heat. Close them and risk moisture turning to mould. Rehau worked with PVC to find a solution, and they called it Geneo Inovent.
It packs ventilation into the window frame – invisible but effective, saving more than two-thirds of the heat. That saves energy while preventing moisture by bringing in the fresh air.
"That was only possible with a filler-reinforced PVC window frame," says Ralf Bauer, head of technical support at Rehau. "Using the scope and design of PVC profiles, we succeeded in integrating the components in the frame completely."
The RAU-FIPRO fibre composite allows Rehau to leave out the steel reinforcement and use that space to put two sets of fans in the frame of each window. One fan drives the used indoor air outside while the other pumps in the fresh outdoor air.
For the tech- and spec-savvy, Geneo Inovent reaches 30 M3 volume flow of air, or 30 cubic meters per hour per window, with up to 71% heat recovery and a very low acoustic level.
"That means it keeps the noise out, and the burglars too!" says Bauer.
And there's a new added feature: Geneo Inovent now connects to the Smart-Home-System of DigitalStrom, Bauer says. "This offers the possibility to regulate the ventilation volume according to the current air quality, and that improves efficiency and comfort.''