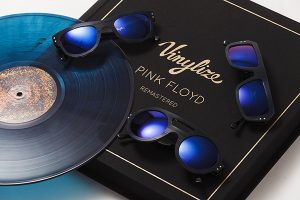 Reel back to 1998 in green-minded Seattle, home to Nirvana and other grunge rockers. Then-teenage eyewear maker Zack Tipton had an idea: why not give vinyl records a second life by recycling them? And why not as wearable art?
He tried different plastics – from acrylic to ultem, from polycarbonate to resin. "One day in my garage workshop I noticed my father's record collection. In a eureka moment I realised I could make about four pairs of glasses from one 12″ album."
But at 19, Tipton had trouble getting financial backing. "So I made a few prototypes and travelled to Hungary, where I had found an old socialist eyeglass factory. They didn't have any designers or sales people, so I was able to convince them to develop production for Vinylize."
The next hurdle was retooling the factory, since "all the machines were made to work with cellulose acetate. When we started we had to have records pressed and we smuggled them from Prague back to Budapest," Tipton says.
Vinylize – video here and on German TV – now recycles about 10,000 vinyl records per year into eyewear, cases, mirrors, business cards and other accessories. "Now that vinyl is back in vogue, distributors ship us vinyl they can't sell," Tipton says.
"And by placing our product on celebrities like Elton John, Sir Richard Branson and Robbie Williams to name a few, we were able to convince potential customers this is durable, fashionable, sustainable,'' Tipton says. ''We have convinced the world it is cool to wear vinyl on your face."
Tipson says last year Vinylize added a new line of clear frames called NVSBLE. ''And we can even make frames from an album of your choice.''