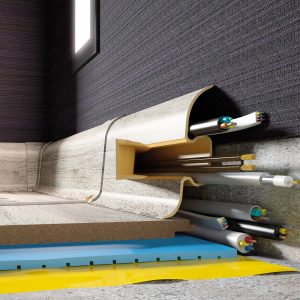 When Dariusz Bogdan surveyed the flooring
market for skirting board, he saw an opportunity. Why not turn something many people largely ignore into something made to be seen, with colour and lights, and hide unsightly cables? Plus make it lighter, safer, cheaper.
The owner of Cezar designed the skirting himself out of PVC, using no heavy metals, and flexible enough to fit the sometimes irregular contour of flooring and walls, intended or not. In his home country Poland, Cezar's skirting quickly muscled in on the competition, with help from a video campaign.
"We saw a niche in the market dominated by solid wood, MDF and aluminium profiles," Bogdan says. "It was a chance to make a product more practical and with a lower price, highly aesthetic and resistant to humidity."
But before jumping into development, Bogdan sounded out his customers. "We learned the needs of the final users. For instance, we carefully selected material mixtures that would absorb vibration and muffle the noise generated while walking."
Bogdan and his team also developed rubberised edges to make sure the skirting boards could adjust to any shape of architecture. "And as safety for future users is our priority we carefully selected mixtures that are free from lead and other heavy metals." The skirting's central chamber can conceal any cables and screws, ensuring aesthetics as well as child safety.
A special printing technology ensures the colours remain true for years, and there are more than 100 to choose from. And the icing on the cake: the LED lighting. "That lets you continue the lighting from the floor plank. And it can indicate an exit way," Bogdan says.
For Cezar, LED also helped light its way into a lucrative market. One more reason to celebrate on the company's 60th birthday next year, founded in 1958 by Cezary Niewiński.