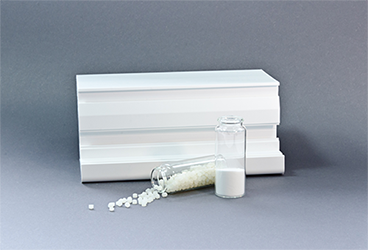 Since 2010, ADD-Chem has been developing specialty blends of raw materials for windows, cables, tubing, plastic film, foam, wallpaper, even the record industry. Among them is a tough, even blast-resistant, range of impact modifiers for rigid PVC called ADD-CAM products.
"It's a specific preparation of Chlorinated Polyethelene (CPE), an Acrylic Impact Modifier (AIM) and co-stabilisers," says Juergen Hartmann, ADD-Chem's General Manager. "It's also available in different ratios of CPE and AIM."
Applications can include window profiles as well as sheeting which are resistant to mechanical force and high impact.
"The final product is high-gloss, highly weather-resistant, with high flame resistance as well, and higher explosion protection," Hartmann says. "It has excellent corner weld strength, and it can withstand high impact even in low temperatures."
What about the cost? Not easy to talk figures, as the specific blends can vary. But Hartmann says "the cost savings can be very significant."
With constantly increasing market demands and requirements in cost and performance, ADD-Chem's in-house lab can adapt a wide range of raw materials for stabilisers, modifiers, plasticisers, pigments, lubricants and processing aids, the company says.
"This includes a global sourcing of raw materials," says Hartmann. "So we've got a laboratory with global reach."