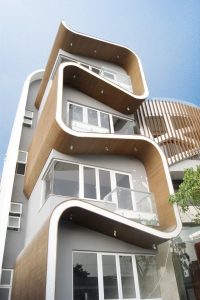 Rice paper is thousands of years old, but Resysta International is also making use of rice husks to make an alternative to wood or wood-polymer composites, with a little help from PVC. Founder and CEO Bernd Duna set out to develop it, after his family's furniture business saw tropical wood become ever more expensive and rare.
''We show that environmental protection and economic success can go hand-in-hand,'' says Duna. ''The rain forests are the green lungs of our world, and Resysta is the best alternative to tropical wood on the market.''
With plenty of the raw material from rice production around the world, the German-based company is helping to fill the high demand for wood, while helping put the brakes on deforestation.
"And in some ways, it's better than the real thing," says Duna. "We developed a weather- and water-resistant material which truly has the noble look and feel of wood. And it doesn't splinter or rot over time."
With years of research and 15 years of experience, Resysta developed a process using PTRH Tech, treating the rice husks to combine with the polymers. The result: powder or pellets, extruded into solid or hollow profiles, or boards of various thickness, suitable for outdoor use.
While real wood can grey with age, Resysta resists the effects of time and weathering, keeping its original colour. Already used by major global manufacturers, Resysta is highly competitive price-wise with wood, WPC, laminate, metal and other materials.
BBB Italia makes its new icon chair Ponti940 with Resysta. And Resysta Universal Performance Board won the coveted Red Dot Award this year.
And Resysta itself is 100% recyclable – easy to shred and pulverise, and can be reused for production without any additional intermediate steps.
"At the end of the day," says Duna, "we're simply saving a precious resource: trees."