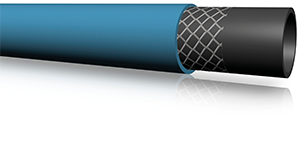 "If you can´t stand the heat, get out of the kitchen!"
The old saying applies to Espiroflex´s non-toxic hose that can be used to supply high-fat content food as well as clean food-processing facilities safely and efficiently.
Espiroflex makes the hose by extruding vinyl compounds without phthalates or heavy metals, reinforcing it with two internal polyester thread meshes and a blue exterior. That makes for lightweight hose with 80% PVC, with high resistance to breakage and minimal risk of constriction.
"We designed it for the most extreme cleaning environments," says Bruno Sanchez, Managing Director of Espiroflex. "You can use it in temperatures up to 80 degrees Celsius, and it´s resistant to a wide range of chemical products."
Those environments include poultry farms, pig farms, slaughterhouses, and ham salting-houses – meaning it´s resistant to corrosion. "You can also use it to clean machinery, like car wash equipment,"Sanchez says.
Compared to other hoses on the market, Espiroclean has a longer service life due to its unique formula, significantly reducing cracking over time, says Sanchez. "It´s also abrasion-resistant."
Based in Spain, Espiroflex has been in the flexible tubing business since 1995, with plants also in France, Germany and the Czech Republic.