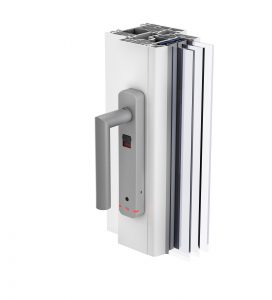 When Profine set out to create a new generation of
window security, it had a lot on its mind, including smart home technology, the Internet of Things, burglars, sustainability and of course cost. With the Lockstar Security Window System, it meets current demand and preps for the future.
"Lockstar has an integrated electronic device that monitors any mechanical effect relative to the windows, including frame, glazing and fittings," says Volker Koennel, in charge of Project Management as well as Economic, Political and Environmental Affairs at Profine.
"So it's also a burglar alert system," adds Koennel. For its development, Profine founded proSecurTec GmbH, which develops and deals with electronic security devices.
Lockstar's integrated electronics can expand options on smart home technology, including any future developments with IoT. "And that's combined with all the widely-known advantages of a PVC window," says Koennel.
On sustainability, Lockstar is made of 40% recycled material and provides thermal as well as sound insulation up to 48dB, saving on resources as well as your ears.
"One challenge was keeping the cost down even with the technical advancements on security," Koennel says. We developed a mechanism which can detect even slight mechanical effects without electrical cables and complicated devices, while small enough to be integrated into standard window frames.
"And we managed to get outstanding thermal insulation values," Koennel says. Translating into tech-speak, the passive house value is Uw 0.72 W/m2K. "That means this system can further reduce CO2 emissions and combat greenhouse gases."