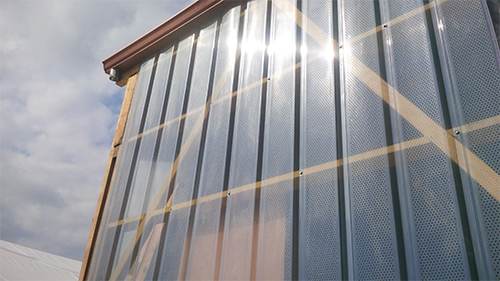 Producing flat and corrugated plastic sheeting for more than 40 years, Renolit took on a new challenge: making the first rigid and translucent PVC windbreak with light transmission over 60%. Why so important? Ask the livestock industry.
Every day a herd of 50 mature cows releases 500 litres of ammonia and 10,000 litres of methane.The air in a stall has to be renewed 20 times per hour, according to the French Institute for Livestock. You also want a well-lit environment.
Wind tunnel-tested, Renolit's Perforlux is bi-stretched® PVC with a shape memory material that has high shock resistance (35J). With 64% light transmission, that compares with about 10% for wood cladding and 20% for steel.
There were hurdles. First, determining the right light transmission."Farmers are looking for light and air but without increasing the temperature inside the barn," says Philippe Hanser, Marketing and Sales Director of France-based Renolit Ondex. "We used a specific translucent formulation that filters infrared rays."
Another challenge: according to French standards, the drilling design of windbreak products must prevent 85% to 90% of the air flow to enter into the farm building. In a wind tunnel, Perforlux withstood wind speeds up to 22 m/s and the final windbreak capacity reached 91%.
"The biggest challenge was to find an industrial process to perforate corrugated sheets," says Matthieu Cetre, Renolit Ondex Product Manager. "We worked with a local partner and designed a specific tool able to drill more than 570 holes of 5mm per stamping phase without deteriorating the material."