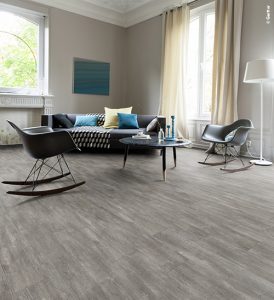 It can be a highly sticky situation, tearing up the old flooring and laying the new. All that adhesive, and the cleanup. Gerflor makes it easier, with Pressure Sensitive Adhesive. And the flooring itself is an innovation – it's 100% recyclable, waterproof and quieter.
''It shrinks both the eco-footprint and the noise footprint,'' says Arnaud Challande, Group Marketing and Communication Director at Gerflor. ''This can create a real new product category, with important new business.''
X'Press installs faster, easier with the Pressure Sensitive Adhesive, no sticky stuff involved. And it can be directly applied to the existing subfloor.
Replacing X'Press itself is also easy.
''You don't need any tools to remove it, and it's easy to replace a single plank,'' says Challande. ''The subfloor is clean after removal – no messy adhesive residue.''
Check out one of Gerflor's latest – Creation 55.
The Luxury Vinyl Tile (LVT) collection produces some attractive new colours, designs, effects and formats. And of course, with the X'Press technology inside.