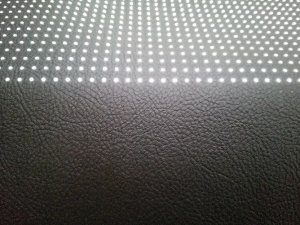 As a world leader in synthetic leather, Vulcaflex spotted a new opportunity: backlight the PVC material with LED. The possibilities of Brightlast, with its light-passing properties, are far and wide.
"You can use it in advertising, in wearable art, in technical clothing, in home and naval design furnishing and architecture," says Sergio Ballardini, R&D Lab Manager of Italy-based Vulcaflex. "It's truly a design material, using different types and colours of light."
Even as a company with seven decades of experience, there were challenges. "Mainly to fine-tune the transparency of the finishing layers. We had to strike an optimal balance, with the right raw materials," Ballardini explains.
Brightlast has all the usual attributes of synthetic leather made from plasticised PVC (pPVC). It's water- and abrasive-resistant, has low flammability, low migration and VOC emissions, with a leatherlike feel.
"When the LED lights are turned off, Brightlast looks like traditional synthetic leather, so the LEDs are a hidden, magical bonus," says Ballardini.
"This unlocks a wide variety of opportunity for designers in a wide area of applications," Ballardini says. "The coupling of high performance, sustainability and backlighting in synthetic leathers could really be a winning horse to bet on."